Your one-stop-shop for Watch Batteries
Since 1984 M & I International has carried a full stock of watch batteries so we can be your one stop shop for watch battery replacements.
We keep an extensive inventory of watch batteries to ensure you're timepiece stays ticking. The following are some of the watch batteries we carry:
Breitling
Bulova
Casio
Citizen
Ebel
Gucci
Longines
Movado
Omega
Rado
Raymond Weil
Seiko
Swiss Army
Tag Heuer
Replacement watch batteries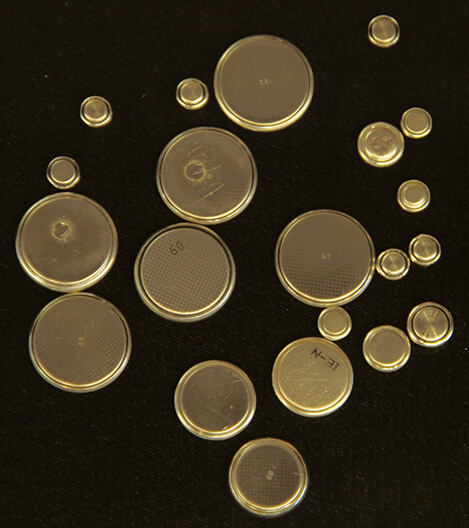 We stock all standard watch replacement batteries including silver oxide and alkaline batteries in all sizes. We also stock specialty batteries that don't conform to the usual sizes for many watch brands including Seiko, Casio, Citizen, and many other popular brands on the market.
We recommend getting a replacement watch battery every one and a half years. As batteries age the casing can start to corrode, which can result in the battery leaking inside your timepiece.
Find the right watch batteries for your precious heirlooms. We offer watch battery replacement services for nearly all watch batteries, batteries for watches sometime while you wait. Visit the battery store for watch batteries today.
This can cause irreparable harm and corrosion to your watches movement, which can result in costly repair work down the road. As such, regular replacement of your watch battery is an excellent preventative measure, especially since batteries are by far the least expensive part of your watch.
Looking for an unusual sized or older battery? We also carry a large inventory of batteries for miscellaneous electronics including:
Handheld camera and camcorder batteries either as a replacement or extras for extended photo shoots
Medical equipment batteries for hearing aids, blood sugar testing devices, and wheelchairs and mobility scooters
Batteries for household equipment including cordless power tools, garage door openers, and flashlights
Small personal devices such as calculators, radios, car remotes and garage door openers.
Handheld gaming systems like the Sony PSP and Vita, Nintendo Game Boy and 3DS
Not sure if we have the exact specialty battery you need? Get in touch with us and we'll be happy to answer your questions and find the right match- we'll even special-order it if we don't have it in stock!
The experts in

Watch batteries
Family owned and operated since 1984, M & I International is your premiere one stop battery shop in the Las Vegas valley. We carry a full stock of watch batteries, among other batteries.
Call us at
(702) 363-0100

.


Meet with our professionals today.